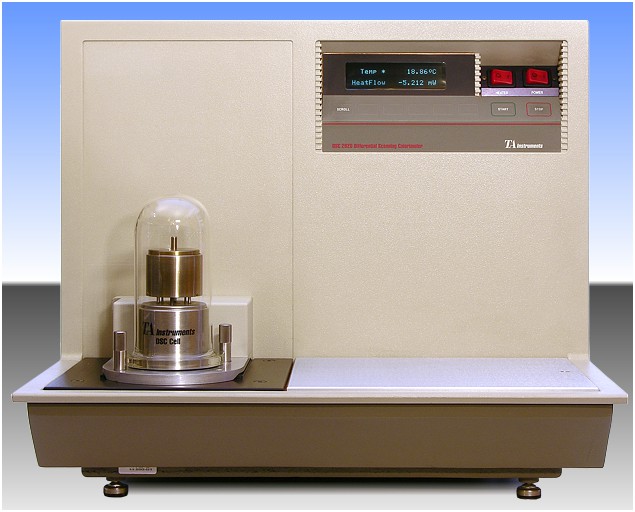 DSC2910

,

DSC2920

,


DSC2010

Differential
Scanning Calorimeter

Principle
Two sample platforms for sample and reference are located in a heated chamber. When the heat flux into the sample differs from the flux into the reference, e.g. because it consumes melting heat, a temperature difference will evolve. It is being plotted with the TA Analysis software.

Applications
Determination of melting point, melting heat and heat capacity
Examination of enthalpy changes (ie. chemical or physical reactions in the sample which produce or absorb heat, for example oxidation heat)
Measurement of crystal structure transformations, glass transition and many more
Specifications of the DSC2920
Temperature Range: Room temperature up to 600°C, with inert purge gas 725°C
Enhanced temperature range down to -40°C with Refrigerated Colling System (RCS) or -150°C with Liquid Nitrogen Cooling Accessory (LNCA)
Data Interface GPIB, Gas connectors for purge gas and cooling gas
Exchangeable DSC cell module, different cell variants are available
Weight:

22kg

, Dimensions: 46 x 59 x 50cm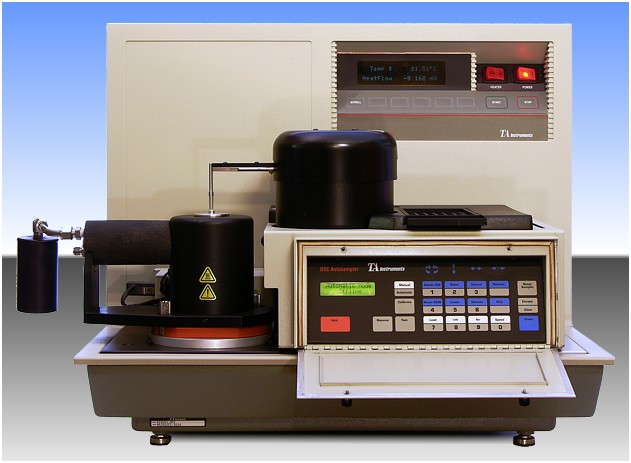 DSC2920

with

Autosampler

Principle
Analyzers of type DSC2910 / 2920 can be equipped with an Autosampler kit. A robot arm opens and closes the lids of the DSC cell and exchanges the sample pans. Its gripper works with force feedback, thus is able to grip lightweight empty pans as safely as heavy samples. The user can prepare 62 sample pans on a detachable tray. Each of the 62 samples can be accessed randomly and for each of them an individual analysis program can be defined.

Applications
Continuous quality checks on samples from an ongoing production process
Serial examinations on a row of samples with systematically changed composition
Statistic evaluations on a bigger number of samples
Unattended experiments running over night
Improves the reproducibility of the sample placement in the DSC cell.
Specifications of the DSC2910 / 2920 Autosampler
Sample change time plus open/close lids: approx. 60s
GPIB connector for full control from the TA Analysis software
Placement precision: 0.2mm
Requires special sample pans for Autosampler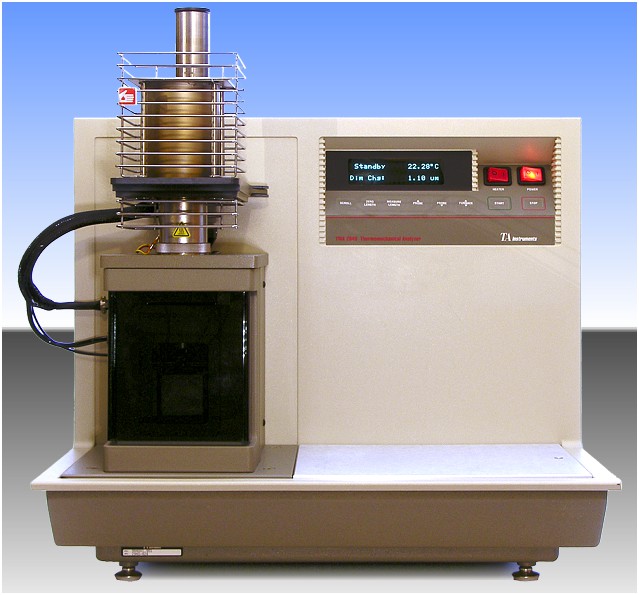 TMA2940
Thermomechanical
Analyzer
Principle
The sample is being placed on a sample platform inside of a furnace. A quartz finger probe is hooked on the top of the probe, it is loaded with weights. When the sample is heated up, it will change its dimensions or become soft, so the probe is elevated or it sinks into the sample material. The position change of the probe is taken up by a differential transformer (LVDT).
Various types of probes exist for different sizes and forms of samples.
Applications
Measurement of the coefficient of thermal expansion (CTE, dilatometry)
Determination of material stiffness as a function of temperature (includes melting point, delamination, glass transition, curing of resins etc.)
Specifications of the TMA2940
Temperature range: Room temperature up to 1000°C, -150°C with cooled helium
Maximum sample dimensions: height 25mm, diameter 10mm
Resolution: 100nm, Linearity: ±0.5%
Maximum probe displacement: ±2.5mm, Highest permissible pulldown force: 1N
Data interface GPIB, gas connectors for purge and cooling gas
Weight:

27kg

, Dimensions: 46 x 59 x 66cm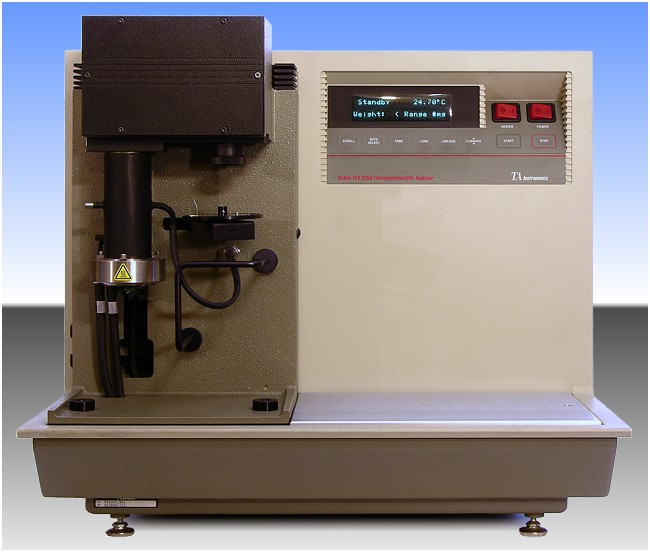 TGA2950
Thermogravimetric
Analyzer
Principle
The analyzer weighs the sample with a micro- balance which consists of a beam mounted on a moving coil instrument. The beam carries the sample and a counterweight. Should the sample change its weight will the current flowing through the coil be regulated to keep the beam horizontal. The sample pan is hung down into a furnace. The current as a measure for the weight is plotted over the temperature by the TA Analysis software.
Applications

Determination of volatile components of materials (eg. water) by evaporation
Determination of temperatures at which the sample changes its weight, eg. by oxidation or decomposition to gaseous products.
Specifications of the TGA2950
Temperature range: room temperature up to 1000°C, ramp rate 0.1 ... 100K/min
Maximum sample weight: 1g (maximum permissible load of the balance: 5g)
Resolution: 0.1µg, accuracy: ±0.1%
Automatic sample changer with 16 samples (option "Auto TGA")
Data interface GPIB, connectors for purge gas, exhaust gas and water cooling
Weight: 30kg, Dimensions: 46 x 59 x 55cm, rated power: 1.5kVA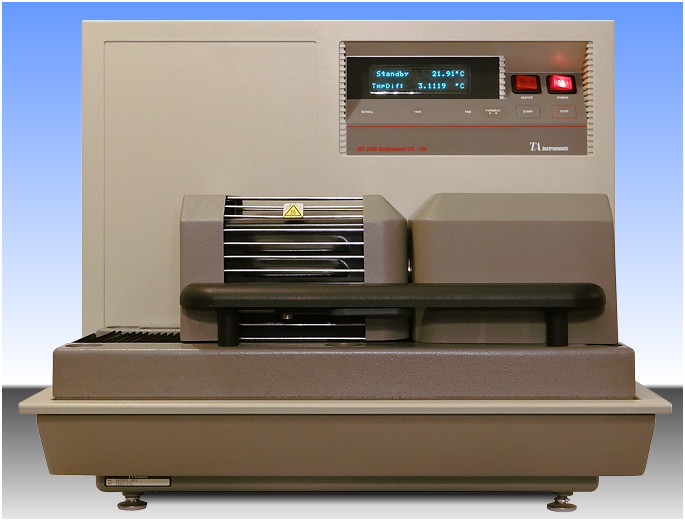 SDT2960
Simultaneous DTA/DSC-TGA
Principle
This analyzer combines the techniques of DTA/DSC and TGA in one appliance. The sample and reference cups are put on platforms at the end of two scale beams which are housed in a furnace. During execution of a temperature program the weight of both samples is measured and can be compared to each other. The sample platforms are equipped with Pt/Rh-thermocouples for the precise measurement of the sample temperature. Should heat be absorbed or set free due to chemical or physical changes in the sample, this can be detected by a temperature difference. The SDT2960 requires special sample cups.
Advantages
Lower price than two separate appliances for DTA/DSC and TGA
Enthalpy and weight changes can be correlated exactly
TGA examinations on two samples at the same time
Higher temperature range than the DSC2920 and TGA2950
Specifications of the SDT2960
Temperature range: Room temperature up to 1500°C, ramp rate 100K/min (up to 1000°C); 25K/min (up to 1500°C)
Resolution of the scale: 0,1µg, Accuracy: ±1%
Calorimetric accuracy: ±2% (calibrated with Indium standard)
Temperature difference sensitivity (DTA operation): 0,001K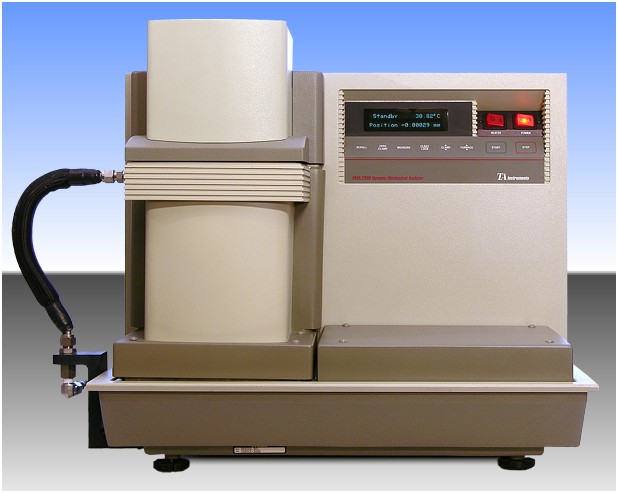 DMA2980
Dynamic
Mechanical Analyzer
Principle
Samples are fixed into position using a variety of steel clamping arrangements. A mechanical deformation is applied to the sample via the instrument's drive motor. The deformation can be applied sinusoidally, in a constant fashion, or under a fixed rate. The resulting force and deformation are plotted to determine various material properties as a function of the temperature.
Applications
Measurement of the elasticity modulus and the viscosity as a function of temperature
Stress relaxation and strain recovery experiments
Examination of the curing of resins
Determination of glass transition temperatures, expansion coefficient and much more
Specifications of the DMA2980
Temperature range: room temperature up to 600°C, -145°C with cooling gas
Sample dimensions: max. 50 x 15 x 10mm
Excitation frequency range: 0.01 ... 200Hz, strain amplitude max. 25mm
Maximum probing force: 18N, minimum load of the probe: 0.001N
Strain resolution: 1nm
Weight: 39kg, Dimensions: 43 x 56 x 66cm
DSC
Autosampler
TMA
TGA
SDT
DMA