Moisture Analysis
TKE now has a brandnew set of tools for the determination of trace moisture in gases based on the coulometric technique. We offer an electrolytic cell, a data acquistion box and a free application software. Here is how it works:
The cell contains a ceramic strip with printed platinum electrodes. They are coated with a hygroscopic layer made of Phosphorus Pentoxide (P2O5) which attracts the water. In electrolytic cells the electric current is strictly proportional to the number of dissociated water molecules per time unit. This is an absolute measurement and requires no calibration.
While a sample gas streams through the cell at a typical rate of 100 ml/min, the current is measured with the acquisition box. This sensing technique is able to find single water molecules among a million gas molecules (ppm range). A water content of 1 ppmV (parts per million of the volume) corresponds to 13.2 µA.
TMM-1 Trace Moisture Meter
In Stock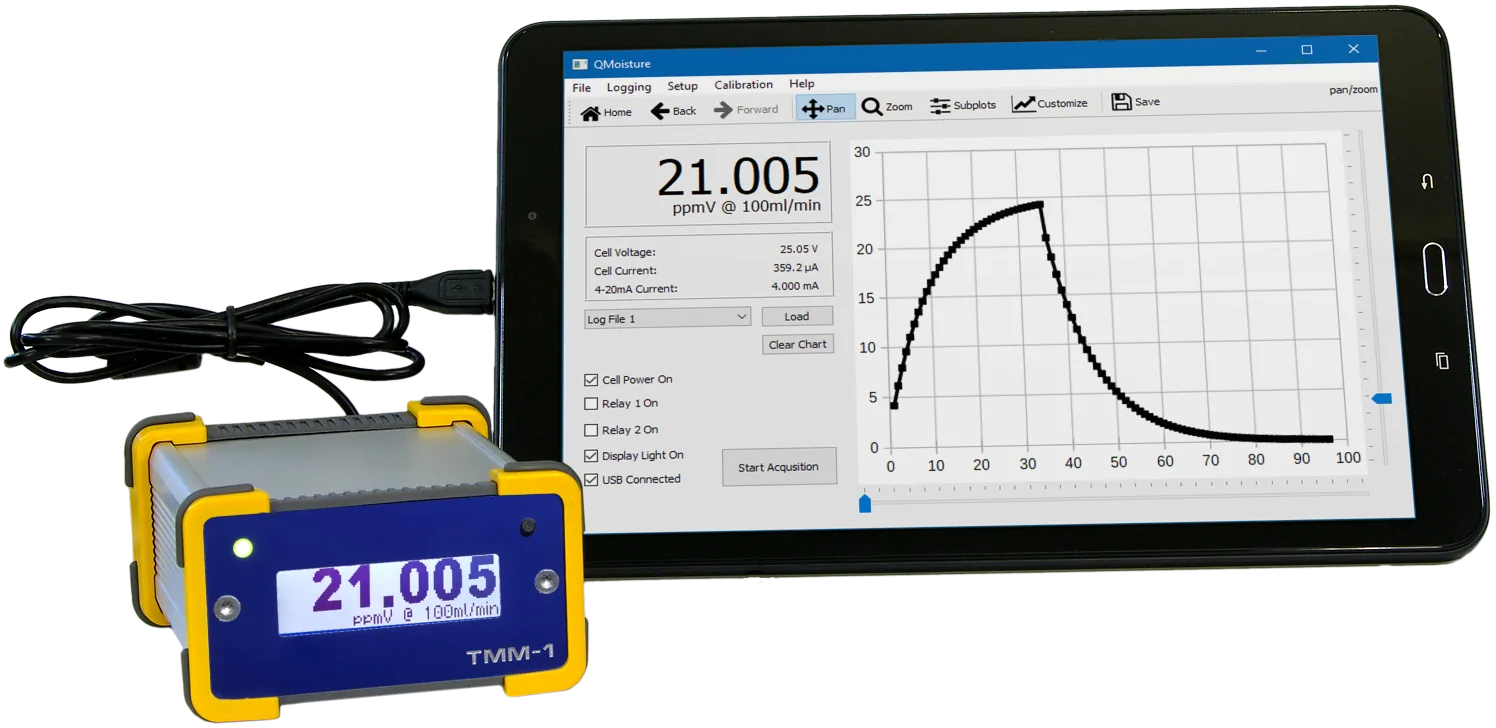 The TMM-1 Trace Moisture Meter is a universal gauge for the measurement of water in gases by the help of a Phosphorus Pentoxide (P₂O₅) electrolytic cell. Cells of most manufacturers can be used.
In standalone operation the TMM-1 shows the value on the front display and can put out a choice of signals via 4-20 mA current loop and relay contacts. After a power loss the TMM-1 restores it's last state and continues to work automatically.
When hooked to a computer or tablet via USB, the TMM-1 can be fully configured through the Q-Moisture software provided by TKE. Command line operation is also possible.
The TMM-1 has a built in data logger. Logging on microSD card starts and stops by the push of the button. When a computer is used for data capture, the logger will keep the acquisition going even if the computer shuts down or gets disconnected. Uninterrupted long time experiments become easy in this way.
Typical Applications
Moisture evolution experiments (MEA) in the laboratory.
Water permeation experiments through films and membranes for quality control.
Process control and monitoring, process gas analysis in the chemical industry.
Air intrusion detection, testing of moisture sensors in the field.
Hardware Features
Extremely high dynamic range of 1 ppb out of 2000 ppm allows the monitoring of very slow signal changes.
Adjustable voltage converter provides the cell voltage of up to 25 V / 100 mA.
microSD card slot for data recording.
USB interface: No driver installation required. Accessed through COM port emulation or directly with DLL API.
Isolated 4-20 mA current loop output: Diverse signals (current, voltage, moisture etc.) and scaling of the signals selectable.
Two independent relay contacts: Diverse signal sources and switching threshold selectable.
Graphic display: shows the reading and operational state. The display illumination can be turned off.
A red / green LED signalizes an overcurrent condition of the cell.
A pushbutton to step through the display pages and start actions.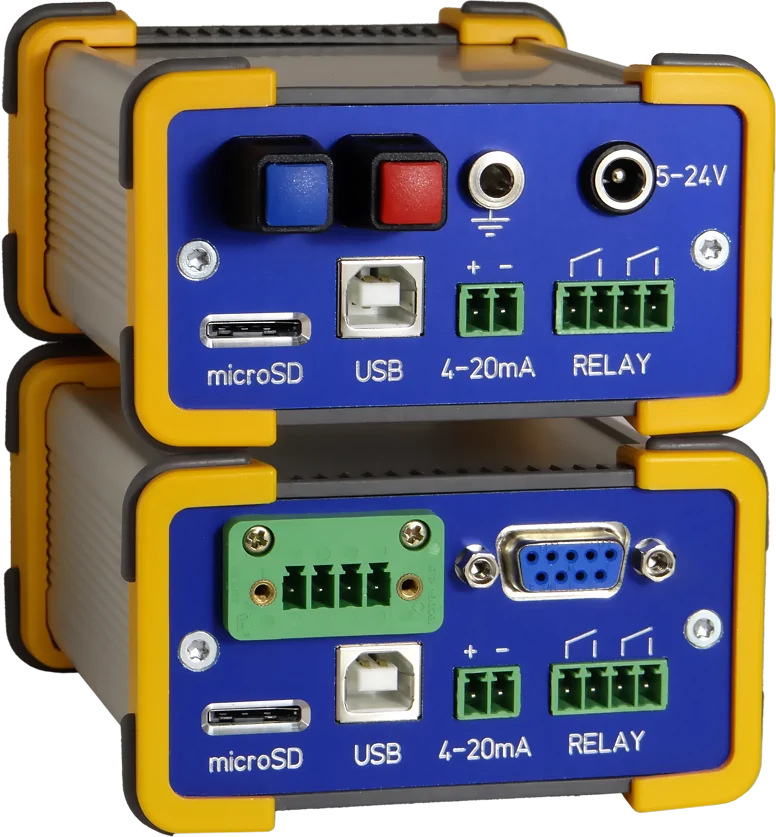 Rear Panel Choice
You can choose between two rear panel variants:
The laboratory panel has quick release clamps for the cell connection and a banana jack for grounding plus a DC jack for operation from a wall adapter.
The industrial panel has pluggable Phoe­nixcontact terminals for the cell and power supply. There is also a multipurpose RS232 connector.
Common to both rear panels is a USB Type B connector, a microSD / SDHC / SDXC card slot, an isolated 4-20 mA current loop outlet and two normally open (NO) relay contacts.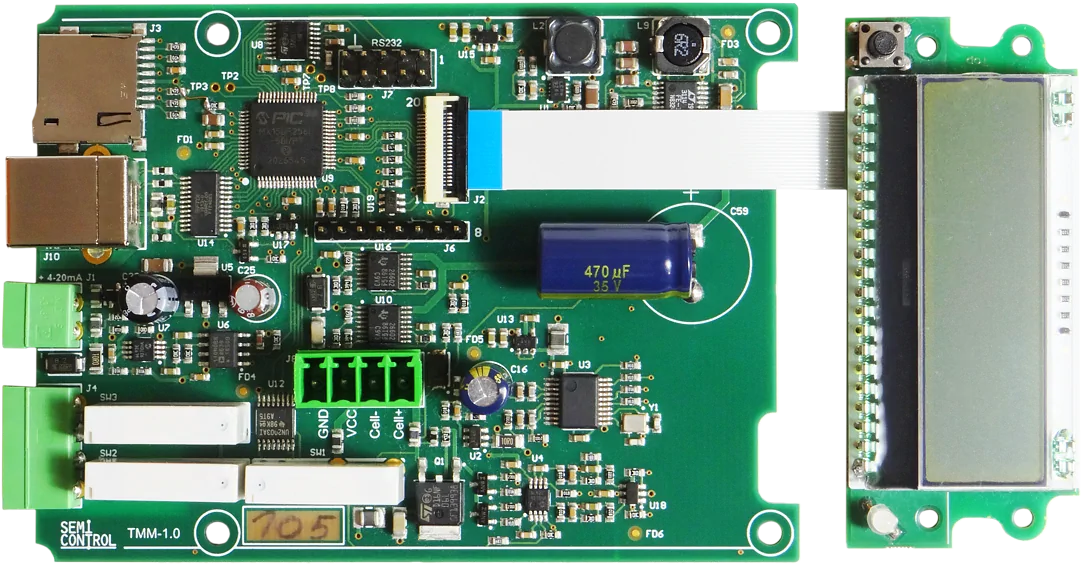 PCB Only Version
The TMM-1 Trace Moisture Meter is also available as printed circuit board without housing and with optional display.
If you plan to integrate the moisture meter into your OEM analyzer, you might only need the PCB. As an alternative to the USB jack there is an additional RS232 pin header for the communication with a local controller or peripherals. A data protocol can be implemented according to your needs.
Power Supply Options
The TMM-1 Trace Moisture Meter can be powered through the DC jack with 5 - 24 V and via USB. Both inlets behave redundant, so continued operation is guaranteed while either one of the supplies fails. In the lab you can use a wall adapter, but in a fixed installation you might prefer a more reliable supply through the Phoenixcontact terminals. All inlets are overcurrent and reverse polarity protected.
The power consumption is only 3.3 Watts at maximum cell load, typically 1 Watt. The unit therefore can be run from a 100 Wh USB power bank for several days.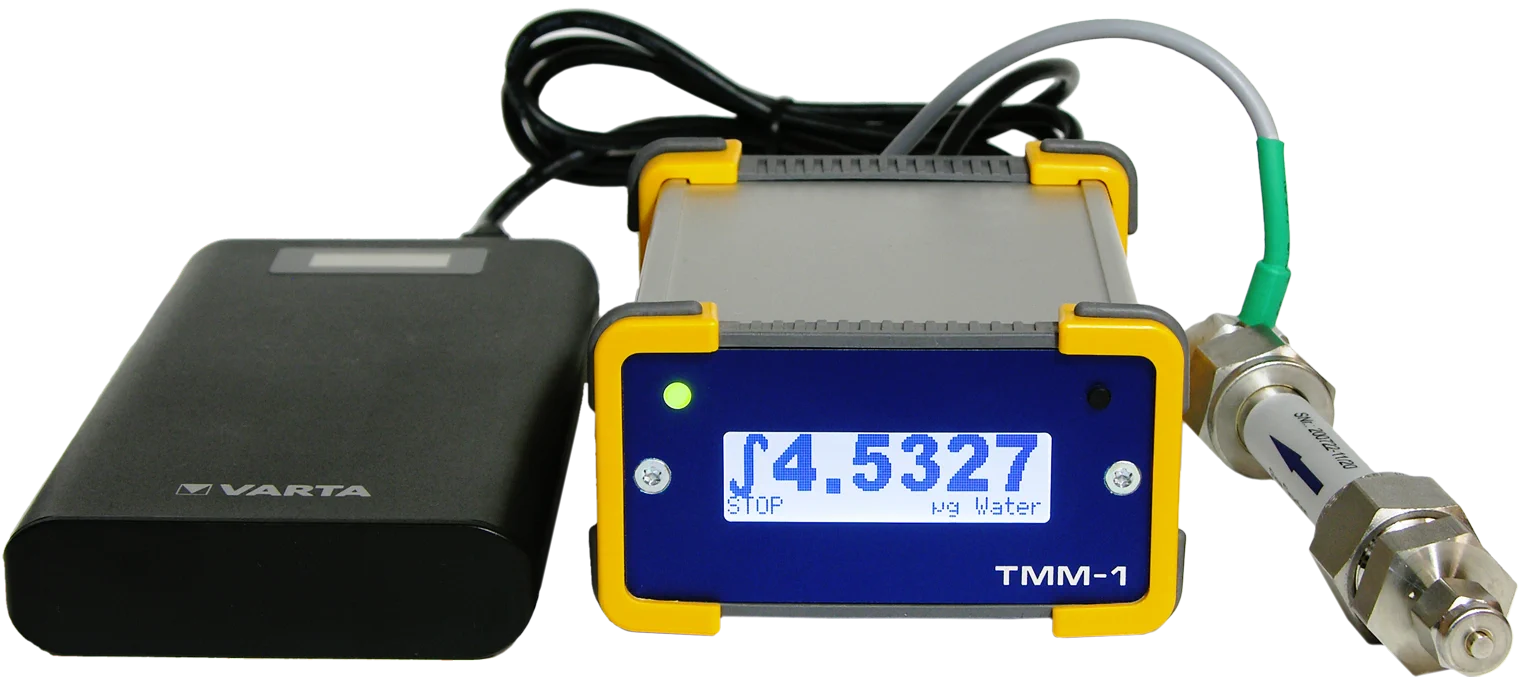 Display Pages

Moisture gauge: The electrical current multiplied with a conversion factor is equivalent to the water concentration, for instance in units of ppmV. Factor and unit can be changed.

Integral gauge: The current is continuously integrated which results in the charge count. Multiplication with a conversion factor makes the amount of water, e.g. in units of µg.

Operational state: Informs about cell current and voltage, relay switch states, signal level of the 4-20 mA output, supply voltage and USB connection state.

Data logger: Shows name, momentary size and elapsed time of the log file and the remaining free space on the memory card. A press on the pushbutton starts a new log file.
Technical Specifications
Dimensions: H 52 mm, W 90 mm, D 113 mm, Weight: 300 g
Power supply: 5 - 24 V ±10%, max. 3.3 W
Cell operating voltage: 0.1 - 25.0 V adjustable
Cell current limit: 0.1 - 100 mA adjustable
Cell power limit: 1 Watt
Sampling interval: 1000 sec - 100 Hz
Absolute cell current accuracy: ±(0.1% + 100nA)
Cell current resolution: 24 Bit
Display resolution: 6 digits floating point
Document Downloads
In Stock
TKE Trace Moisture Cell

This new P₂O₅ electrolytic cell developed by TKE is a cost saving and versatile solution for the measurement of water concentrations in gases down to 1 ppmV.
The cell can be opened, therefore the user can easily clean and regenerate it many times before a replacement becomes necessary.
The cell is also suitable for permanent installation in Ametek/Dupont analyzers as a replacement for the original Keidel cells. Ask TKE to convert your analyzer with the new cell, in case the Keidel cells should not be regeneratable any more.
TKE always holds fresh and tested cells on stock, so the user can swap the cell quickly in case of defects on the sensor strip.
TKE recommends to use the TMM-1 Trace moisture meter as it has enhanced protective features to keep the cell alive. However, the cell would also work well with third party equipment.

Volumetric flow: up to 100 ml/min (linear range).
Sensitivity range: 1 ppmV - 1000 ppmV @ 100 ml/min
Operating voltage: 25 - 70 V, max. power dissipation 1 W.
Sensor strip made of aluminium oxide ceramic with sintered platinum electrodes.
Outer dimensions incl. fittings: length 133 mm, diameter 22 mm.
1/8" Swagelok fittings, customized fittings and cable possible.
Orderable Items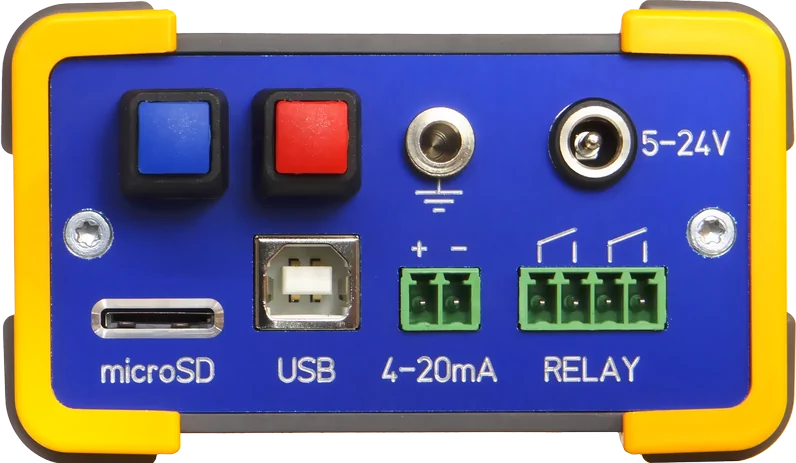 TMM-1 Trace Moisture Meter LAB
• Laboratory rear panel version.
• Shipment includes USB cable and Phoenixcontact plugs. Please specify in the contact form if you need a power supply and memory card as well.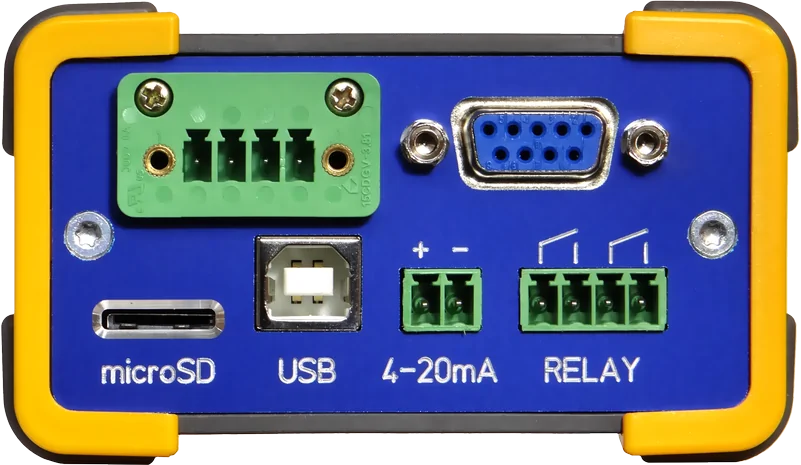 TMM-1 Trace Moisture Meter IND
• Industry rear panel version.
• Shipment includes USB cable and Phoenixcontact plugs. Please specify in the contact form if you need a power supply and memory card as well.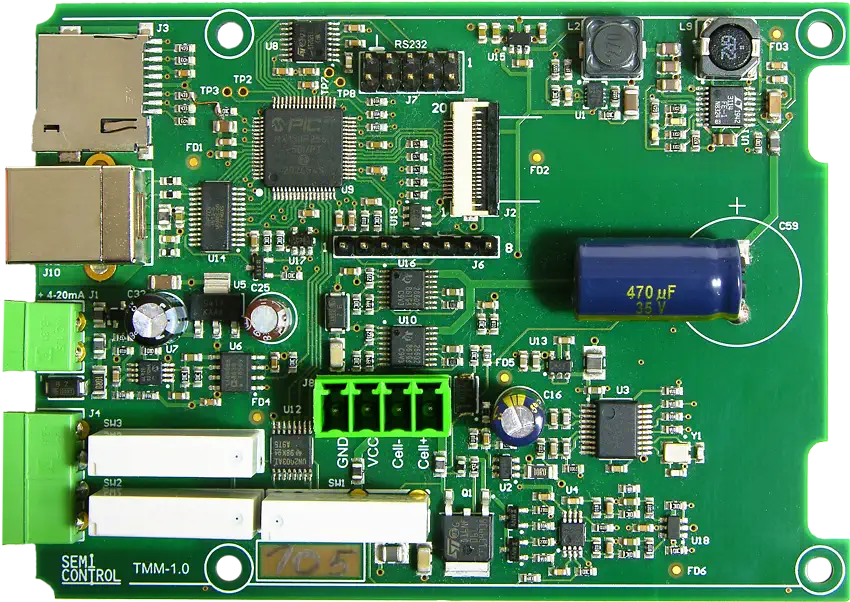 TMM-1 Trace Moisture Meter PCB
• Printed circuit board, tested and calibrated, without display.
• Shipment includes only Phoenixcontact plugs. Please specify in the contact form if you need a USB cable, memory card or RS232 cable as well.
• CAD model available.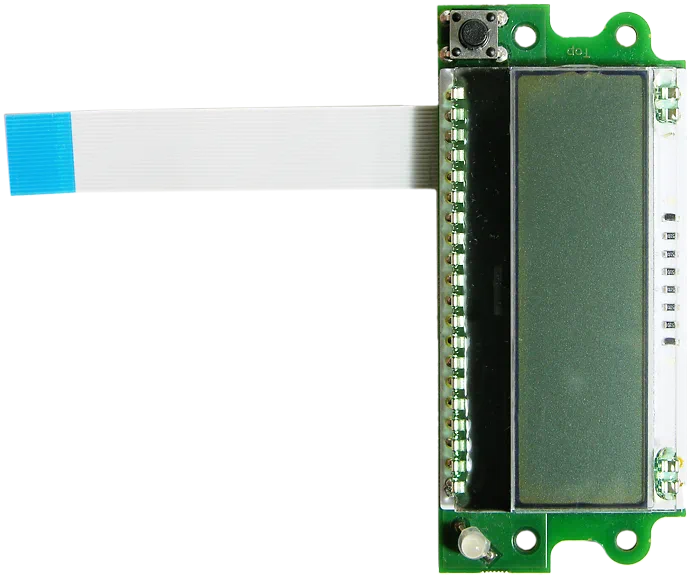 TMM-1 Trace Moisture Meter LCD
• Liquid Crystal Display to be operated with the TMM-1 PCB.
• Features a signal LED, pushbutton and white backlight.
• Shipment includes 75 mm FFC foil cable. Other cable length possible on request.
• CAD model available.

TKE Trace Moisture Cell
• Shipped in dry condition, test protocol included.
• With 1/8" Swagelok Fittings and 130 mm (5") cable.
• Please specify the desired cable length or special fittings in the contact form.
Q-Moisture Software
The Q-Moisture software is an easy setup and control tool for the TMM-1 Moisture Meter. It is used to prepare the TMM-1 for standalone operation in the field. In the laboratory Q-Moisture serves as plotter and control terminal. You can run and document experiments online or download data log files from the TMM-1.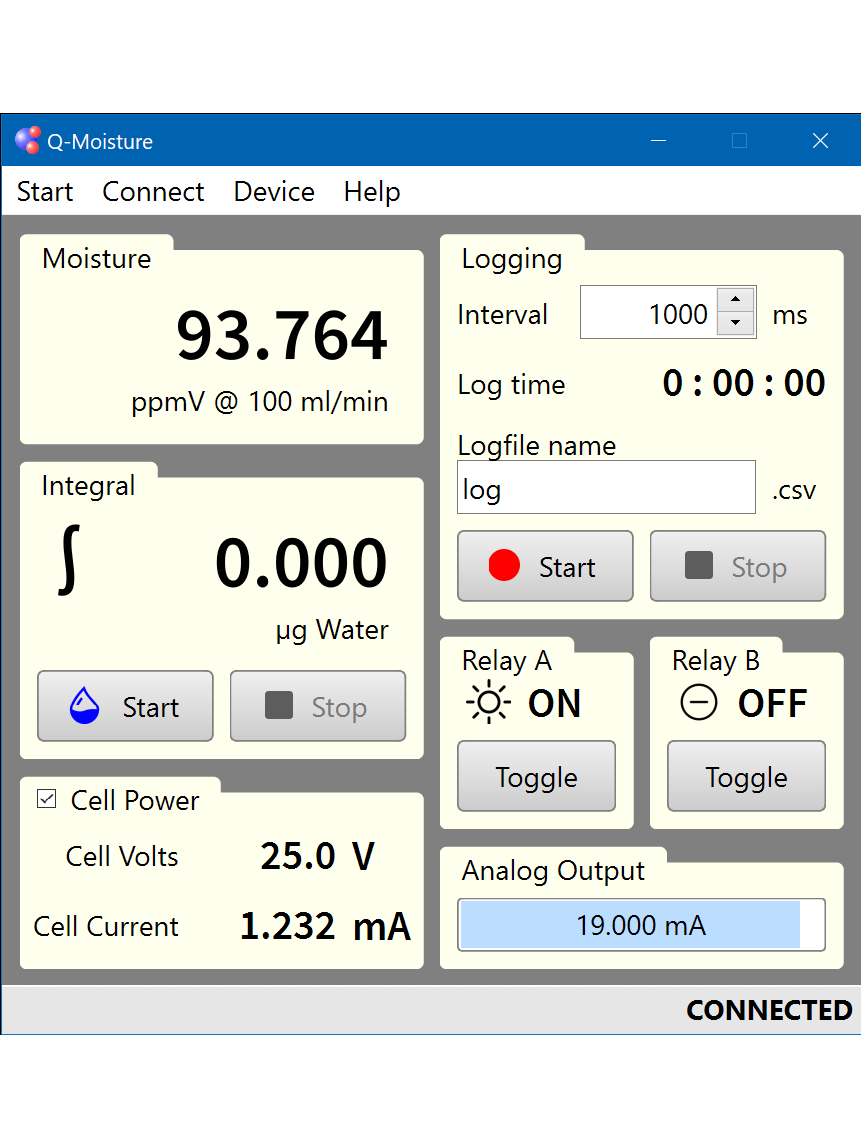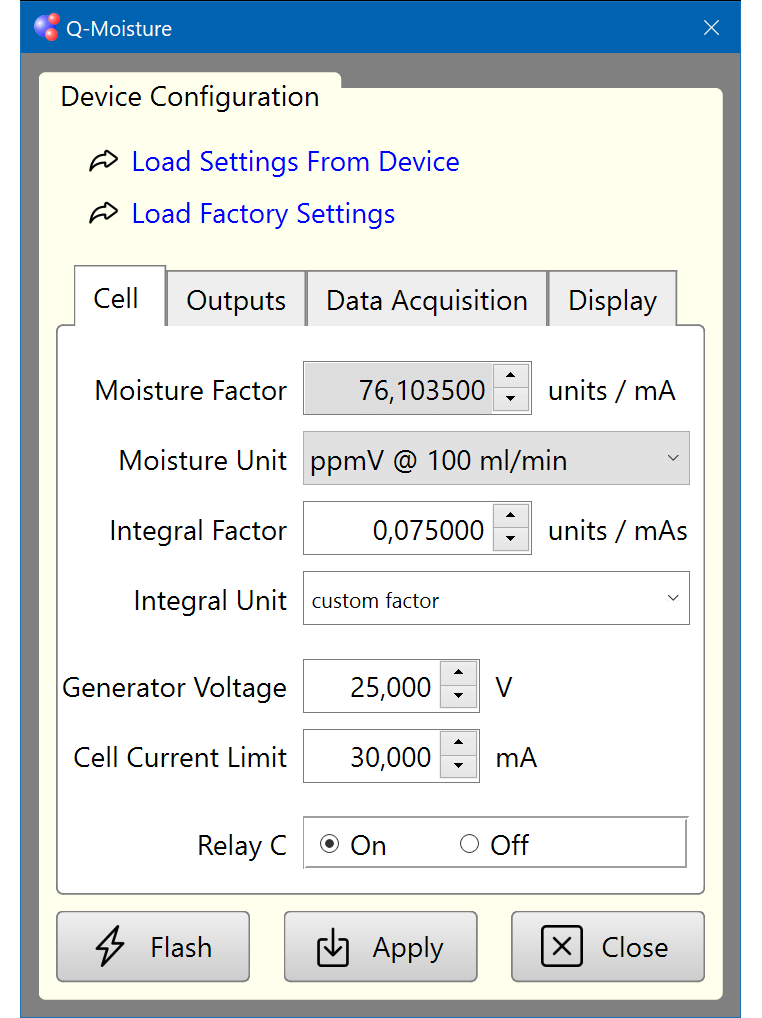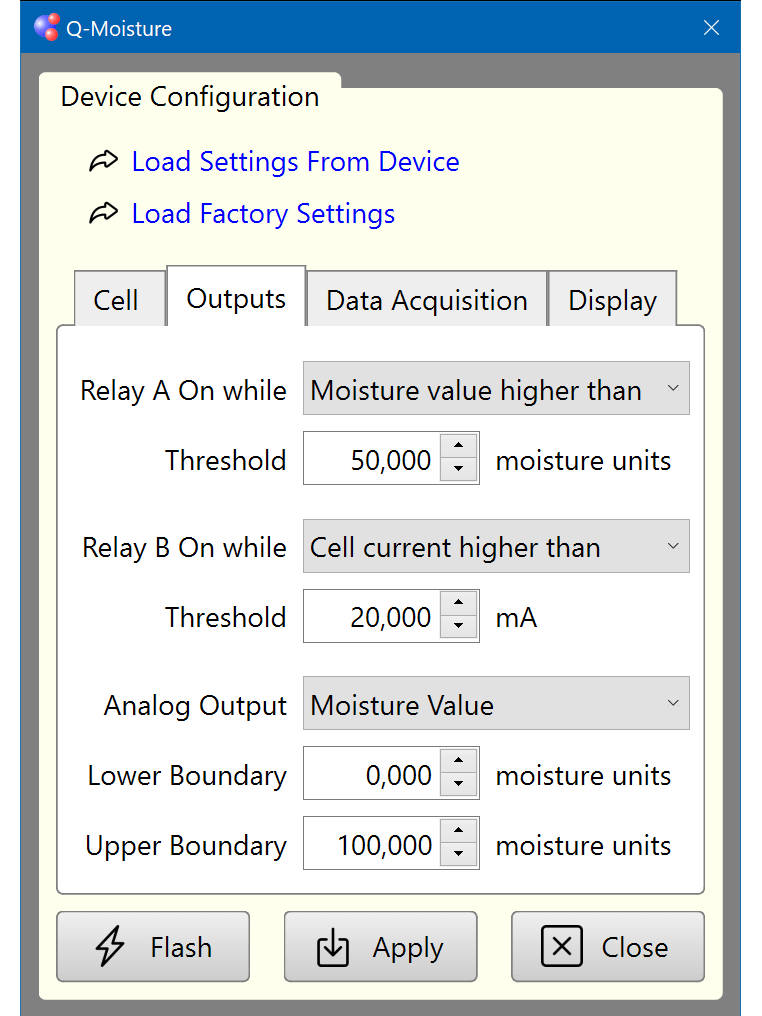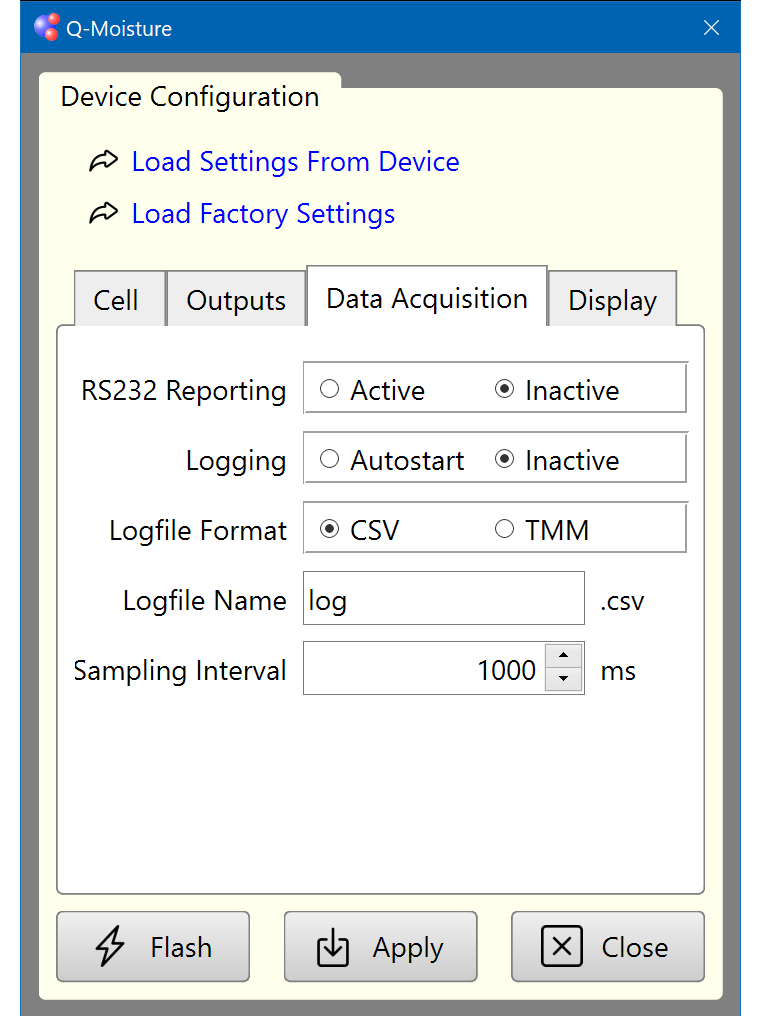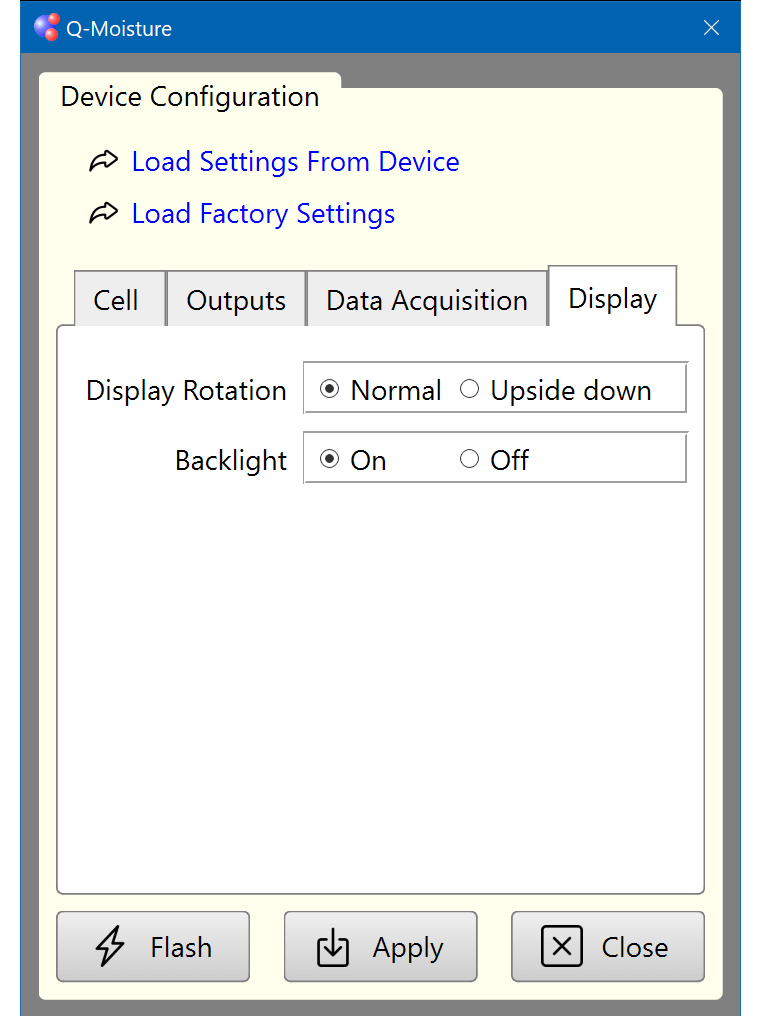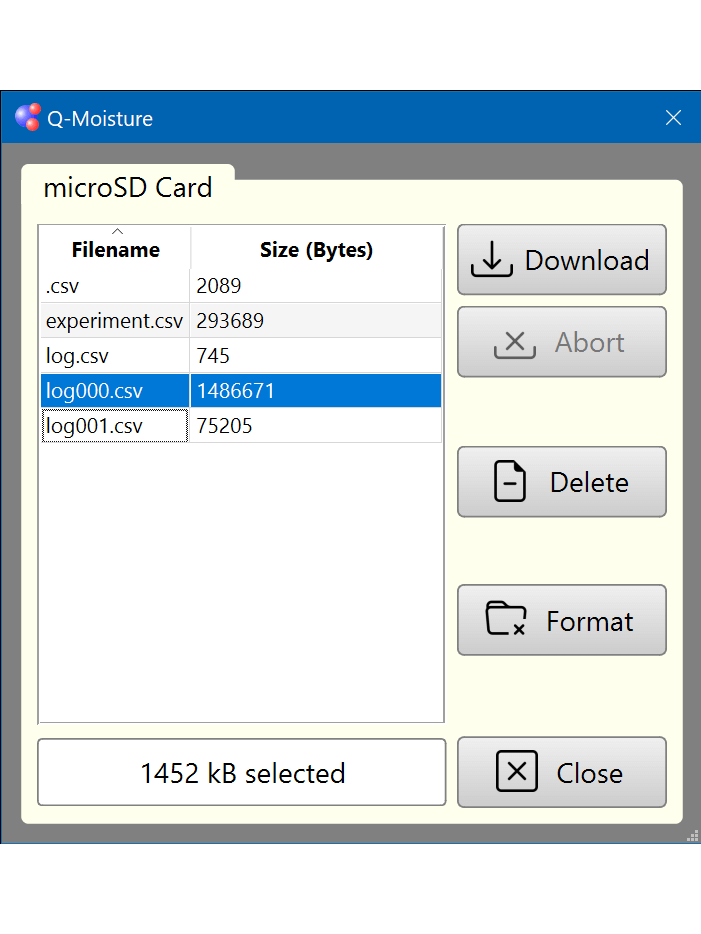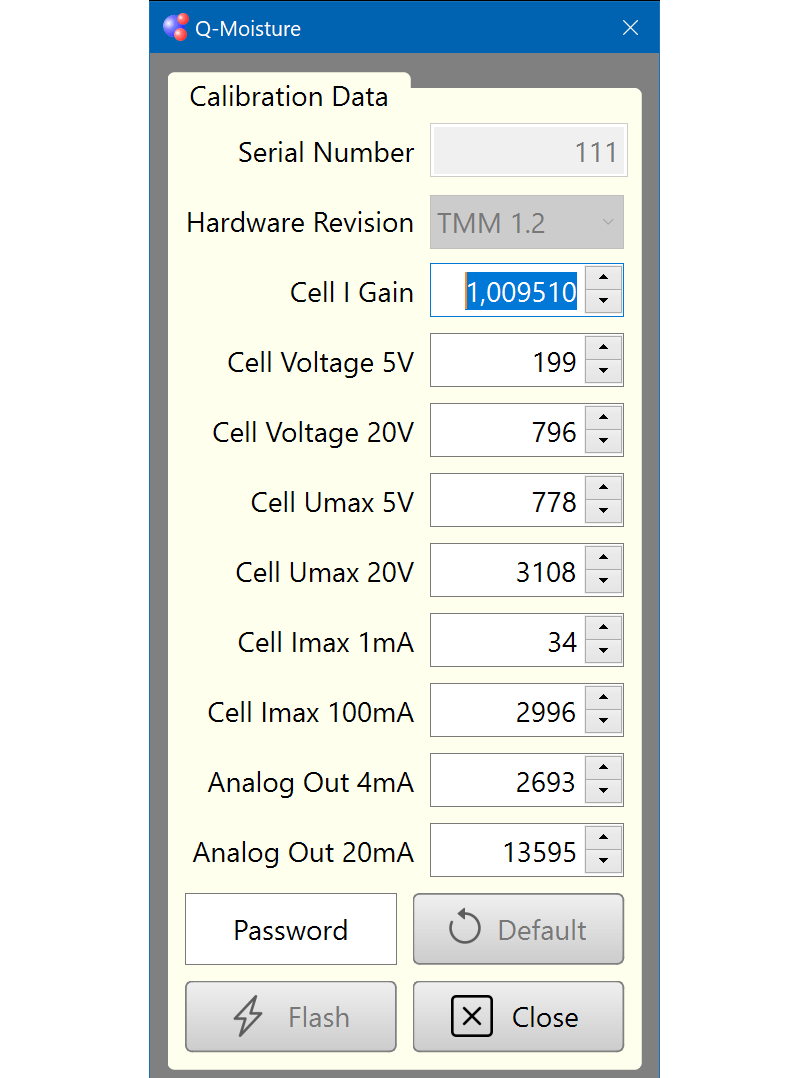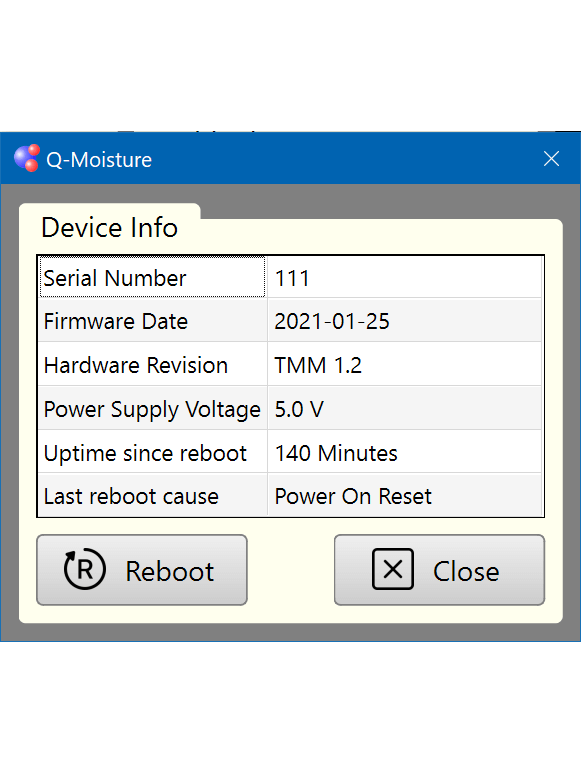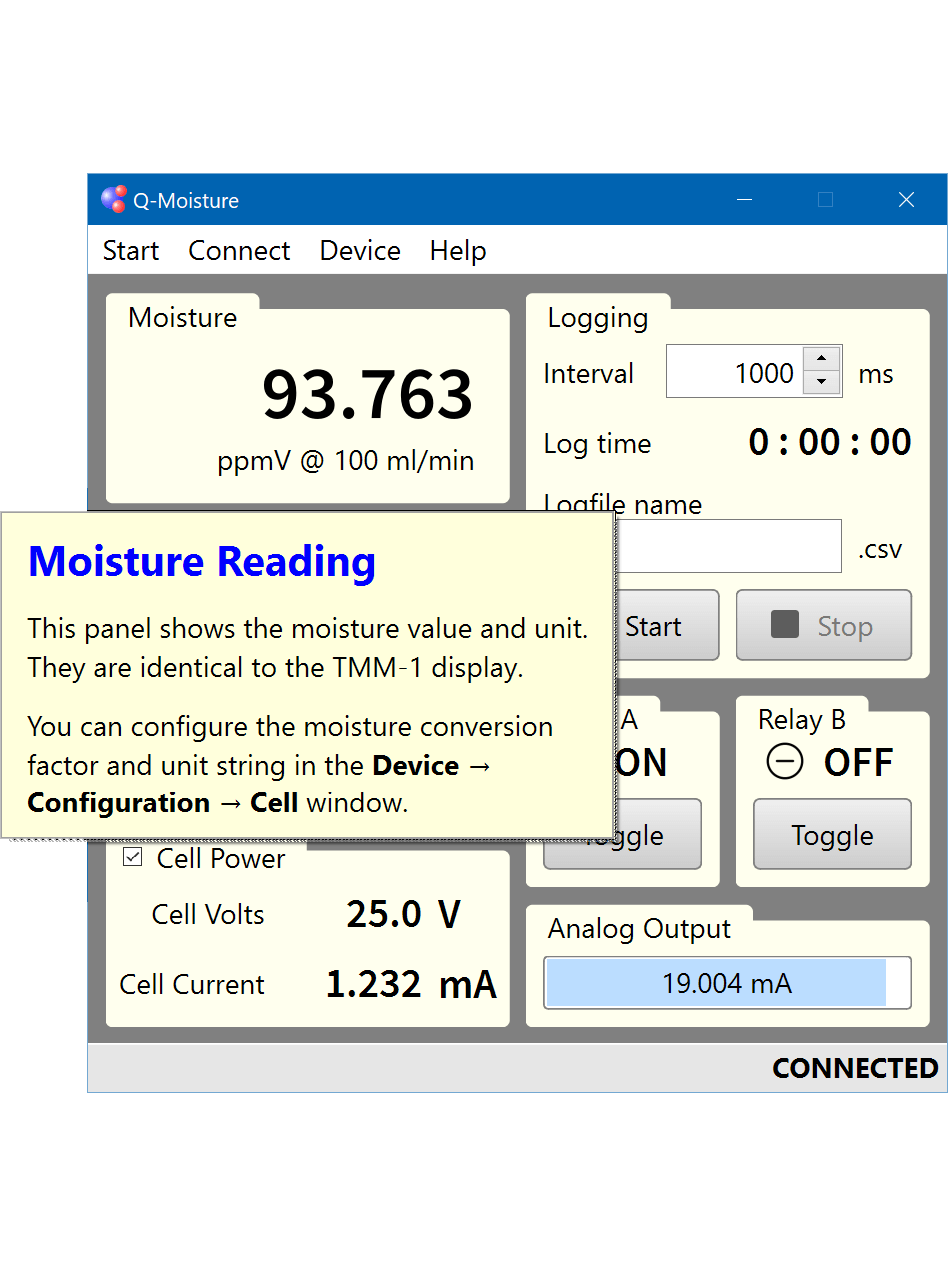 Features
Monitor moisture and accumulated amount of water
Start / Stop data acquisition.
Retrieve data log files from the TMM-1.
Set cell voltage, current limit, sampling rate.
Configure 4-20 mA signal source and scaling.
Configure relay signal sources and thresholds.
Setup the TMM-1 power on default behaviour.
Calibrate all analog circuitry of the TMM-1.
Coming soon: Data visualisation and chart analysis
Software Download
Developer Documents
Programmers and system integrators who wish to develop their own operating software or integrate the device in their own software environment will find the needed interface descriptions in these documents.
Legacy Cell Regeneration
TKE offers the regeneration of the phosphorus pentoxide moisture measuring cells (Keidel cells) that are used in the Dupont Moisture Evolution Analyzer MEA902/903 and the Ametek Moisture Monitor 303 as a special service.
In this process the cells are recoated according to the manufacturer's standard. As a result we restore 100% functionality. Of course, this does not apply to cells with internal glass crack or shortage between the platinum windings.
The regeneration service includes:
Free of charge check for the regeneration feasibility
Cleaning and recoating of regeneratable cells
Test with a calibrated moisture analyzer
Test report
Moisture Analysis Expertise
TKE has gained years of experience in the development of trace moisture analysis solutions. If you need assistance in your project, we like to help where we can.
As one major project in the past TKE has developed an analyzer based on the Quartz Crystal Microbalance (QMB) technology. QMB works with an oscillating quartz disk that is coated with a hygroscopic polymer. When the coating absorbs water, the increased weight tunes the resonant frequency of the quartz to a lower value, which can be measured easily. This allows the determination of extremely small amounts of water down to 0.1 ppmV in gases. Compared to P₂O₅ cells, a broader range of gases is allowed to use as the polymer layer is unsusceptible to many substances.
We have submitted all rights for production and marketing of the QMB trace moisture analyzers to Michell Instruments Ltd. Learn more about this product here:
Useful Links
We recommend the following companies, that we successfully cooperate with: